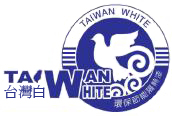 Taiwan White®

Round 9W 10W 12W COB LED Bulb - T3 Bulb Replacement
TaiwanWhite® Non Metallic Material Heat Sink;
More surface area for heat dissipation

.
Lightweight material / Flexible structure design

.
Efficient production by injection molding

.
Heat deflection temperature: more than 270 °C
Flame Retardant: UL94 V-0


Material:
White color, Insulation UL94 – Vo @ 3.2mm, K=1.3 W/mK



We use thermal conductive engineering plastic to designing plastic heat sink for a excellent heat dissipation. It enables higher productivity attributing to a lower cost product compare to aluminum.
Optimized heat sink structure long product lifetime

To replace aluminum die cast and extrusion

.
Reduction of process waste

.
Reduction of energy consumption

.
Regrind reclaim rate of up to 30%


Environmental friendly compliance with RoHS REACH


Weight reduction of up to 40%


Integrated flexibility

.
Excellent cosmetic aesthetics

.
Enhanced processing capabilities

.
Excellent Price Performance ratio

.
Insulate Specification conform with 5KV breakdown test

.
Non-Halogen Flame Retardant Grade, Flammability UL94-V0 UL94-V2


UL approved V0 and V2


Providing technical advice for a workable business solution


Halogenated Flame Retardant Grade REACH & RoHS compliant
LED COB 5W10W12W15W20W30W Bulb - Near Nature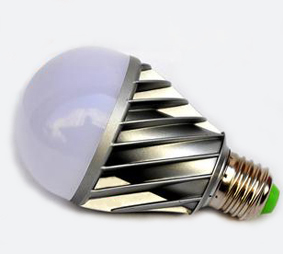 #131912 12W
COB, Multi Chips on board, is a technology of LED packaging for LED light engine. Besides greatly reduce thermal resistance for better conductivity, COB LED module can get good light effect and high light efficacy. Best reading light, good for eye.

COB Ceramic use ceramic board of high thermal conductivity, which makes COB ceramic achieves 18W/m.k coductivity compared with COB aluminium 1-3W/m.k. Besides, Ceramic is insulating to get more safety.

Color Rendering Index (CRI) is a measure of a light source's ability to show object colors "realistically" or "naturally" compared to daylight. Normally, the higher CRI, the lower Lumens.
COB LED standard CRI: Warm 60-65 Cool 70-75 100-130Lm/W
COB LED High CRI: Warm 80-95 Cool 80-100Lm/W

Specification


●LED Chip Is Fixed On Aluminium Layer Of Aluminium Base PCB.
The Heat From Chip Can Be Spread Out Through
Aluminium Layer Rapidly.
●Low Lighting Decay, Decay Less Than 1% After 2000 Hours
●Equable And Soft Irradiancy , No Flickering Light And Eye Protection.
●Good Reliability, No Dead Bulb And No Facula。
●COB LED Fill Lighting Module Can Be Combined Into Different
LED Lights Easily。
●Safe, Work Voltage Is Under 50V。
●Environment Friendly。
●Good for Eye, Best Reading Light。

Product Usage


●Round Full Lighting Module Is Widely Used For LED Bulb、LED Cup、
LED Spot Light、LED Down Light、LED Project Light、
LED Street Lamp And So On。
●Flat Full Lighting Module Is Widely Used For LED Tube
(Such As T5/T8/T10),LED Desk Lamp,LED Bulb,
LED Hard Bar And So On。
TAIWAN WHITE®- cooler than fantasy
TAIWAN WHITE TO MAKE TAIWAN GREEN
Thermal conductive polymers plastic heat sink with excellent heat dissipation,
18pcs - SMD5630 9W
85-265VAC 50/60Hz Isolated Circuit Overload Protection
60x125mm
2500--6500K
900Lm
Base E27
T130109

9W LED

Bulb

Color:

2500K Yellow

or White

6000K

Base E27 Bulb

TaiwanWhite®

Heat conduction Plastic

900Lm

Dia.

60x125mm

Interior Indoor
| | | | | | | | |
| --- | --- | --- | --- | --- | --- | --- | --- |
| Item | Power | Size | SMD | color | Lm/W | Warm White | Cool White |
| T130109 | 9W | 60x125 | 5730 | standard | 900Lm |   | |
| T130112 | 12W | 70x120 | 5730 | standard | 1100Lm |   |   |
Taiwan White® Long life
Item:T3060125 Taiwan White 9W LED Bulb light
Size :Dia. 60mm L125mm
Base:E27
Weight:120gm
LED:SMD5630-5730﹙40—51Lm﹚18PCS
SMD5630:0.5W_45—50Lm_Current 150mA_3.2—5.3V
Color Temperature:Warm White(2500—3200K) Cool White(6000~6500K)
Operation Voltage:85~265VAC (110V/220V 50Hz/60Hz)
Power Factor:>0.9
Power Consumption:9W±10%
CRI:≧80
Lighting Angle:180
Lumen:900±10% Lm
Work Temperature:-20℃~40℃
Base type: E27

•Life time: 30000H
•Voltage:AC85-240V
•CRI:>80
•Brightness Degradation:<3% 1000hours
•Use high lumen SMD 5630-5730
•Engineering plastic housing K=1.3W/m-K thermal conductive polymer
•CE UL94-V0 & RoHS

Advantage:
1.Longer life
2.High luminous efficiency
3.Pure light color
4.Energy-saving
5.Radiation safe
6.No flickering light
7.Low heat generation
8.Completly replace the incandescent bulb
Taiwan White 12W LED Bulb power consumption 10W/hour
Traditional T3 Fluorescent Twist Light Bulb average power consumption 23W
A Taiwan White 12W Bulb light can save 11W =
Electric power bill save US$11.39 per year
(23W-10W)x24 hour x365 day(1 Year)/1000=96.36KWH x0.10=US$11.39
Note: Above calculation base US$0.10/KWH power rate and bulb light on 24 hours per day.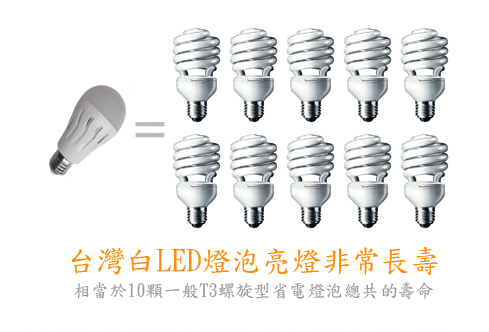 As we place a large share of sales Taiwan White LED lights program into
Taiwan market in the year 2009.
In our company we follow development trends and supplement
sales program with green paints to strengthen environmental protection and
rational use of resources products, recently we have been developing
Aluminum Based PCB with SMD5630 chips and COB for new LED lights.
We devote much attention to training and qualification of technical management,
make use of our own production line in Tainan, Taiwan.
TaiwanWhite → TaiwanWhite1 → TaiwanWhite2 →TaiwanWhite-C → TaiwanWhite-C1

TaiwanWhiteT19 TaiwanWhiteXX TaiwanWhiteT29 TaiwanWhiteT29-1
 TaiwanWhiteT3 TaiwanWhiteT3C

WhiteWall-TireWhite SolarFanForMetalSheetPlant
Home Inquiry -Mail Us: autopure@ms3.hinet.net
Mexa Co., Ltd.
Tel. +886-2-23657700 Fax.+886-2-23657702
Office: 3F., No. 128 Ku Ling Street, Taipei 100, Taiwan, R.O.C.
Factory :No. 66 Kung Ming 2nd Road, Tsun Tou Liau Industry Area, Tainan, Taiwan Tel.09-1019-6666
©This page is copyrighted by Mexa Co., Ltd. since Jan. 1996