Fire Extinguisher Halon Type
滅火器
FK-5-1-12 Novec 1230 AKA Halon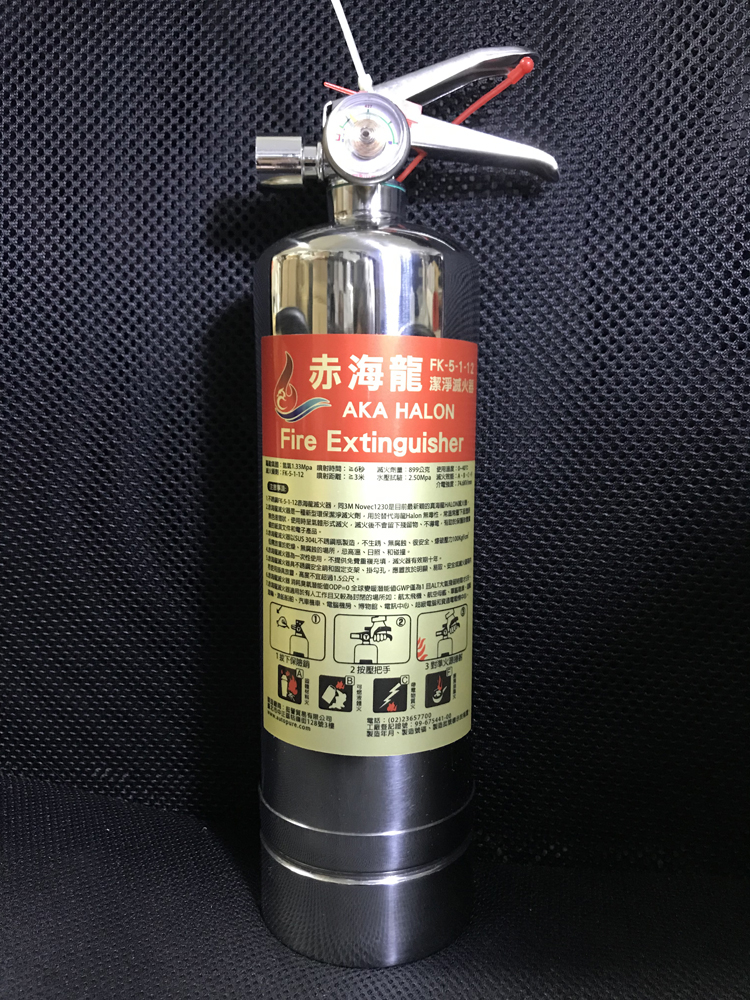 Fire Extinguisher MRI
Non-magnetic clean gas fire extinguisher
Nuclear magnetic resonance MRI fire extinguisher
Proton Therapy PT fire extinguisher
The main feature of AKA Halon non-magnetic fire extinguisher is non-magnetic,
The container material is made of non-magnetic stainless steel.
The use of fire extinguishing agent FK-5-1-12 is
an important substitute for halon fire extinguishing agent.
It is colorless, odorless, low-toxic, non-conductive, does not pollute the protected objects and
will not cause damage to property and precision facilities, nor
It will cause human and livestock hazards during use.
It can reliably extinguish Class A, B, C fires and Class E electrical fires
with a low extinguishing concentration, and it does not contain particles or oily residues after release.
No damage to the atmospheric ozone layer, ODP is 0
The global greenhouse effect potential GWP is 1
The retention time in the atmosphere is 5 days
which meets environmental protection requirements. AKA Halon Chihailong non-magnetic
fire extinguisher is specially designed for MRI... and other strong magnetic field environments.
The clean gas fire extinguishers developed have been widely used in large hospitals and
scientific research institutions at home and abroad.
AKA Halon FK-5-1-12 is no corrosive, has good insulating property, never damages electronic equipment, precision instruments, paper documents, cultural relics and antiques, generates no residue after use, and may substitute for sprinkler system, and dry chemical and foam extinguishing system to protect the high-valued assets.
FK-5-1-12 extinguishing agent has excellent extinguishing characteristics and it can put out Type A, B and C fire, is non-conductive and after ejection it fast evaporates without any residue. Its extinguishing concentration is 3.5% and 4.5% for Type A or Type B fire, which mostly approaches that of halon extinguishing agent.
Ozone Depletion Potential Of Zero
FK-5-1-12 clean extinguishing agent has good environmental harmony, and its Ozone Depletion Potential (ODP) is 0, Global Warming Potential (GWP) <1.0, and the Atmospheric life Time (ALT) is 0.014 year
Results of toxicity test of FK-5-1-12
| | |
| --- | --- |
| Test item | Test result |
| 4-hour acute inhalation | Almost no toxicity (LC50>100000ppm) |
| Carcinogenicity | No carcinogenicity |
| Acute oral | Low (LD50>5000mg/kg) |
| Acute dermal | Low (LD50>2000mg/kg) |
| Irritation to eyes | No irritation |
| Irritation to skin | No irritation |
| Allergy to skin | Non-skin sensitizer |
| Chromosome aberration | Negative |
From the above it is clear that FK-5-1-12 extinguishing agent ensures the extinguishing efficiency, meets the requirements on use safety, is almost
harmless to human body, and is much suitable for extinguishing and protection
of the person-residing place.
Quality specification
Product

Purity/%

Water

content/

ppm

Acidity

(as HCl)/

ppm

Non-volatile

residue(%)

Suspended

matter
or sediment

FK-5-1-12

≥99.7

≤10

≤3

≤0.01

NONE
FK-5-1-12
Physical Properties:
Property

Unit

Value

Molecular Mass

316.4

Boiling Point at1013bar

49.2℃

Freezing Point

-108

℃

Liquid Density 25℃

1.6g/ml

Liquid Viscosity

0.524 cp

Critical Temperature

168.66℃

Critical Pressure

18.66

bar

Critical Density

639.1

kg/m³

Heat Of Vaporization At Boiling Point
88 kj/kg

Solubility Of Water in FK-5-1-12 25

℃

<0.001 wt%

Vapour Pressure 25

℃

0.40

(

5.87

)bar(psia)

Dielectric Strength

~ 110KV/mm
F
K-5-1-12



Compare to the Environmental spec of FK-5-1-12 and Halon and part of the product

:
Item

FK-5-1-12

HFC-227ea

HFC-236fa

Halon1211

Halon1301

ODP

0

0

0

4

10

GWP

1

3800

9400

11300

6900

ALT

0.014

36.5

226

11

65

ODP: Ozone Depletion Potential GWP: Global Warming Potential
ALT:Atmospheric Life Time (per Year)
Highly efficient and safe for people


The extinguishing concentration of FK-5-1-12 clean extinguishing agent is
much lower than NOAEL value, and has extremely low toxicity and thus high safety.
The extinguishing agent is registered in USE.P.A.T.S.C.A.
FK-5-1-12 Concentrations and Safety Margins Comparison:
| | | | | |
| --- | --- | --- | --- | --- |
| Item | FK-5-1-12 | HFC-227ea | CO2 | Halon1301 |
| Boiling Point ℃ | 49.2 | -16.4 | -78.4 | -57.8 |
| Use Concentration | 4-6% | 7.5-8.7% | 30-75% | 5% |
| NOAEL | 10% | 9% | <5% | 5% |
| Safety Margine | 72-122% | 5.9-20% | Lethal | 0 |
NOAEL: Invisible Harm Concentration
Safety Margins= FK-5-1-12 -Use Concentration / Use Concentration X 100%
AKA Halon2

Reflex 1230 Reflex 2 ReflexOFeu brand new unit Novec 1230 (Pressurized) 2Kg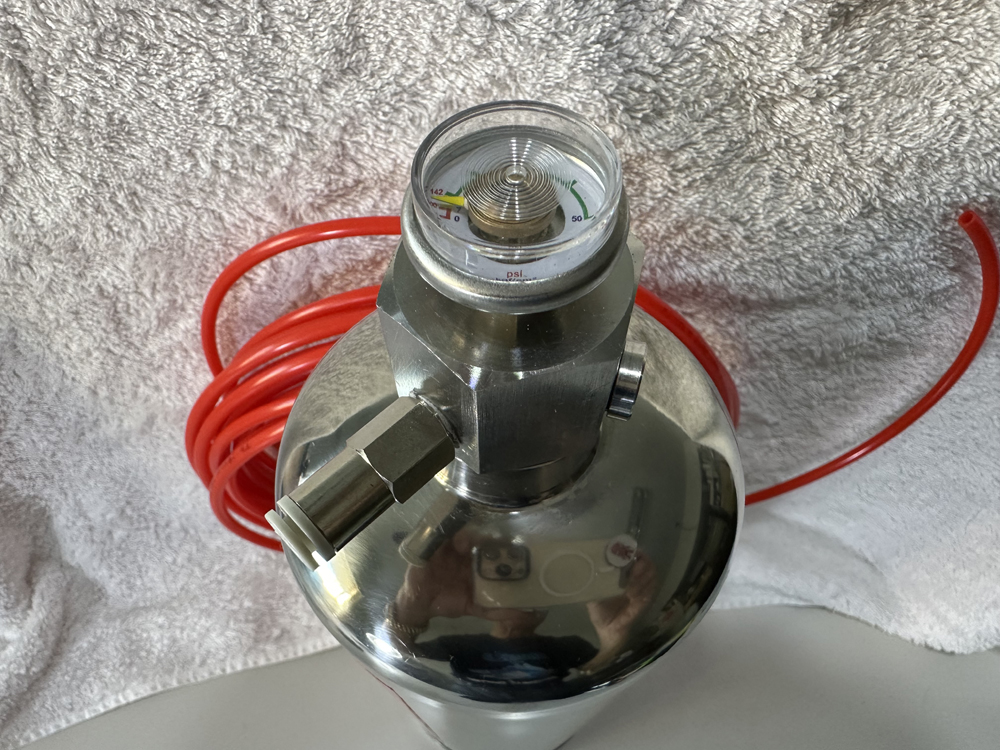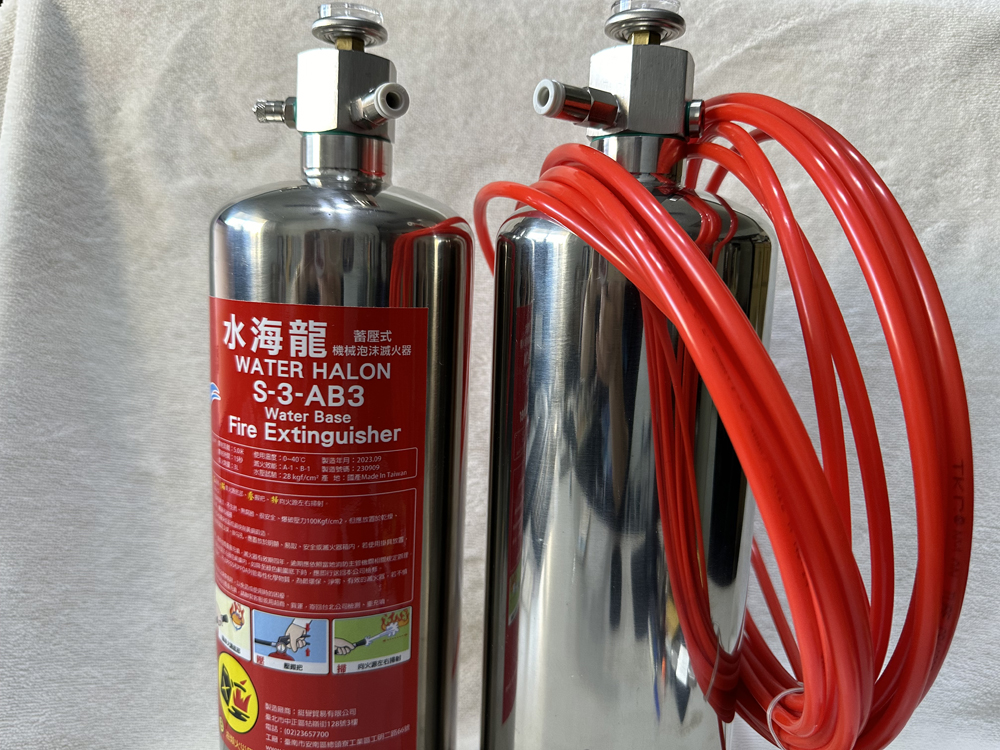 1AKA HALON VS 10 CO

2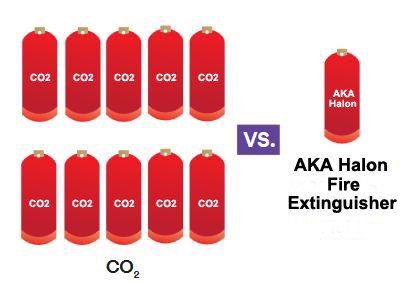 The chemical name of FK-5-1-12 is perfluoro (2-methyl-3-pentanone),
its CAS number is 756-13-8,
chemical code is FK-5-1-12,
molecular formula is C6F12O, and structural formula is: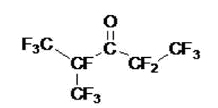 FK-5-1-12 AKA Halon 1230
OEM Production Of Customer's Own Brand Products
fire extinguisher issuu fire extinguisher water issuu
Fire Detection Tube Halon Fire Extinguisher MRI
FireExtinguisherTwHOME
AkaHalon900 AKA Halon WaterHalon CAR FIRE
AkaHalonTW
ONLINE SALES:
www.taiwanwhite.com
-Mail Us
Payment
SkyPe:
autopure
mexa@autopure.com
MEXA CO., LTD. (Since 1979)
The Best ABS Engineering Plastic Wheel Cover's Manufacturer in Taiwan
P. O. Box: 30-534, Taipei 100, Taiwan, R. O. C.
Tel. +886-2-23657700 Fax.+886-2-23657702
Office: 3F., No. 128 Ku Ling Street (GuLing Street), Taipei 100, Taiwan, R.O.C.
Factory :No. 66 Kung Ming 2nd Road, Tsun Tou Liau Industry Area, Tainan 709, Taiwan Tel.886-09-1019-6666 FACTORY MAP